Recirkuleret rejeopdræt
"We decided to take the technology indoors as we've been trying to do in the industry for a long time because of all the advantages that come along with that. You avoid all the diseases that are available in the open environment," says Furman. "You get control over the systems so that you can bring it to a northern climate like Maryland or even further, and you can still keep them warm like they would have in the Gulf and grow a controlled indoor product."
Built on roughly 32 acres on the Eastern Shore of Maryland, the Marvesta shrimp farm produces roughly 130,000 lbs. of fresh shrimp per year. The company purchases hatched shrimp larvae from Florida, raises the crustaceans for roughly five months, then harvests and ships to restaurants and customers from California to New York.
Fritze says there is a simple reason for his product's high demand. "Most shrimp that you eat has been frozen for six to nine months. Sometimes our chefs have our shrimp within 2-3 hours of coming out of the water. Or as a home consumer, if you have access to a product within 24 hours of coming out of the water, you'd be amazed at the difference in taste of a fresh shrimp versus a frozen shrimp."
Aside from taste, Furman says there are other advantages to his company's way of doing business.
"Marvesta is green because unlike the rest of shrimp producers in the third world, we do not produce a bunch of pollution that we pump out into the environment. That's why they've destroyed a ton of mangroves at various points in history and why they've caused environmental damage and ecological damage all the way down the coastline of places like Peru and Ecuador. So we don't have that byproduct and part of that has to do with our technology when it comes to water re-use and water treatment."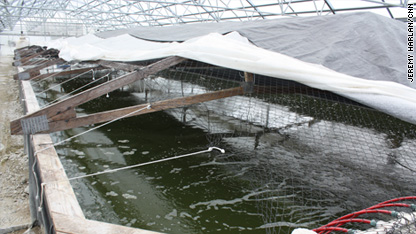 But that technology did not come to fruition without obstacles.
"No one had ventured into this at the level that we had planned to do. So essentially we were pioneering a system and built it from a piece of paper," says Fritze.
"We had to learn it all by trial and error and so it's been a very long learning process because shrimp don't grow overnight. So when you want to change something, you have to change everything and hope for the best in eight months [that] you're going to get it right that time. So we've always had some great results and we've had some problems," adds Furman.
Marvesta's great results have not gone unnoticed. With the recent disasters in the Gulf, people are looking to the company as an alternative to the traditional methods of farming shrimp.
"It's peaked because of the Gulf. There's been a lot of talk about the shrimp industry," says Furman.
Fritze sees the recent oil spill as a way to help change shrimping in the US.
"It gives us an opportunity here to step back and implement some new strategies and new techniques to mitigate some of these risks that the oil spill has really heightened everyone's awareness about. What we can do is provide a sustainable, supplemental source of economy for these industries and help create jobs. And more importantly, domestically produce a sustainable fresh product 365 days a year."
As he pulls up a net of gray squirmy shrimp from the murky green water in one of his tanks, Furman puts it simply, "This is the future of how shrimp are going to be grown in this country and in the world.